News View


WE ARE IN RAAPA EXPO 2017-HomingGame
Release time:2018/2/4 reading:751次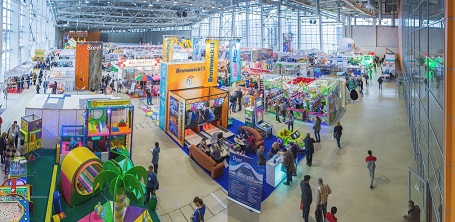 WE ARE IN RAAPA EXPO 2017-HomingGame
On March 2-4, 2017 the 19th International exhibition of amusement rides, entertainment equipment and services for amusement industry RAAPA EXPO – 2017 will be held in pavilion 75 of VDNH in Moscow.This Show is our HomingGame Series continuously 12 years join.
The exhibition Organizer is Russian Association of Amusement Parks and Attractions (RAAPA), the exhibition is supported by International Association of Amusement Parks and Attractions (IAAPA). General Sponsor of the exhibition is PAX Group of companies. General Media Partner is The Amusement Industry Catalogue magazine. Official web-partner is vtorio.com.
At present RAAPA EXPO is the biggest amusement industry exhibition in Russia, the CIS and Eastern Europe. About 200 companies from Russia and more than 20 countries of the world, such as Italy, Canada, France, Belarus, Turkey, Spain, Belgium, Germany, China, Ukraine, Switzerland, Poland, the Netherlands, etc. will exhibit in the exhibition.
By now the following well-known companies confirmed their participation in RAAPA EXPO-2017:
PAX Group of companies, PlaySpace, Brunswick/KidsPlay, Italpark, WhiteWater (Canada), Sarner (the UK), Game-Keeper, Business Russia, Game City Group of companies, Xtrematic (Belarus), Xtraice SL (Spain), KCC Entertainment (Belgium), Polin Waterparks (Turkey), Antonio Zamperla (Italy), HomingGame(China) and others.
At the exhibition all main directions of amusement industry will be displayed: park rides, 5D-cinemas, interactive games, simulators, arcade games, equipment for kiddie and sports grounds, shooting galleries, trampolines, theming, access control systems, automation systems, billiards, bowling, waterpark equipment, vending machines, redemption and prize machines, services on project design of parks, waterparks and FECs, staff training, services on organization of festive events, landscape design, foodcourt service, and many others.
Annually RAAPA EXPO is attended by over 4000 professionals: owners and directors of parks, family entertainment centers, water parks, cinemas, resorts, leisure complexes, representatives of cities' administrations, regional governments and authority bodies, event-agencies, entrepreneurs and other parties.
Within the frameworks of the exhibition the Business Forum of amusement industry professionals will be traditionally held at which topical issues of entertainment business will be discussed. Trainings and workshops will be held by leading Russian and foreign specialists and experts.
On March 2 within the frameworks of RAAPA EXPO - 2017 the ceremony of the International award for achievements in amusement industry Golden Pony Awards Moscow 2017, promoted by the publishing house FACTO EDIZIONI (Italy), will be held. The prestigious prize called "Oscar" of amusement industry will be awarded to the best parks, entertainment centers and amusement rides manufacturers of Russia and the CIS countries.
During the past 18 years the International exhibition RAAPA EXPO has gained the status of one of the most efficient business platforms for amusement business startup and development, became the meeting point for amusement industry professionals from Russia and abroad. The exhibition statistics proves its relevance and credibility by sustainably growing visitors' attendance, growing number of first-time exhibitors and by the high quality level of expositions demonstrating novelties of entertainment equipment, current trends and new technologies.
-----------------------------------
http://www.game-made-in-china.com
---------------------------------------
Youtube
Suscribe us:https://www.youtube.com/user/HomingGame
-----------------------------------------------
Facebook: https://www.facebook.com/jin.homing
------------------------------------------------------
Wechat,Whatsapp,mobile
phone No.:+8618688409495